CONTENTS
Visiting the website, you can choose the language you prefer and discover all the materials.
The materials are available in the national languages of the project partners: English, Lithuanian, Italian, Spanish and Turkish.
● Open the "Readiness quiz" and test your level of knowledge.
● Go to the "Generic training" and discover the introductory materials
The materials you find in this section include three Units, each divided into two blocks (A and B).
Unit 1A – Resource Intense Economies
Unit 1B – Linear vs. Circular Economies
Unit 2A – Resource Use Efficiency
Unit 2B – The European Union and the Green Deal
Unit 3A – Business Models
Unit 3B – Adoption of the Circular Economy
Generic Training Section – sample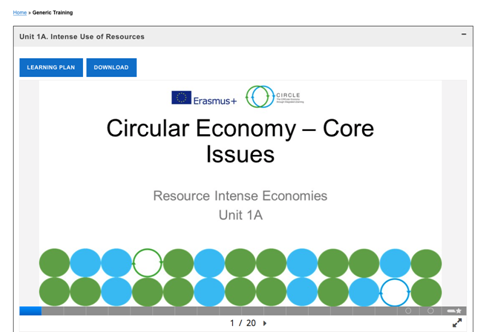 ● Go to the "Tourism Training" and discover the Tourism kit
The materials presented in this section include four Units, each divided into two blocks, where Unit A presents one of the selected topics – Accomodation and Food; Transport; Event Management; Place of interest – while Unit B presents a selection of case studies. Available at the moment the Units of the Tourism sector.
---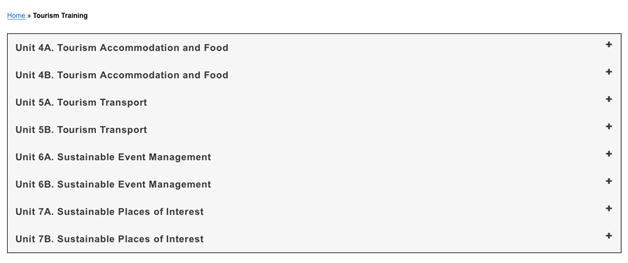 TOOLS
Each Unit – both the Generic Units and the Tourism kit – includes the following:
● Study Plan (pdf document for teacher use)
● Downloadable PowerPoint presentation
● Presentation in H5P format that can be used online. Presentation includes final questions, videos, links to websites and in-depth documents.
● Exercises in H5P format. Exercises include closed-ended questions and exercises such as drag and drop; fill in the blank; video questions; or simple word search games.